In his analysis of corporations in the ecosystem, Brad Feld concludes that "large corporations can be make-or-break partners for startups – as customers, suppliers, collaborators, and investors." He even states that corporations are often "underappreciated" within startup communities while they have much to offer. Corporations may spin off startups, while well-trained and experienced staff may leave to set up their own companies developing new lines of products and services.
On this topic, we asked our interviewees how accurate they found the following statement "Large corporations in your city are actively involved in the entrepreneurial ecosystem".
As with the universities, the interviewees universally ranked corporations as one of the actors least active in the ecosystem. Looking at the data, corporations are even less active than universities. For 2015, the respondents gave an average score of 1.6 (on a scale from 0 to 10). Five years later, the average score had reached no further than 2.6. It is noteworthy that the progress is a solid 62%, which means something is clearly happening among the large corporations in their awareness and relationship with the entrepreneurial ecosystem. But again, it is happening from a subordinate level. Kosovo is the outlier here with a growth of 133%, while the other four countries show more moderate progress – Albania (+37%), Bosnia & Herzegovina (+55%), North Macedonia (+56%) and Serbia (+73%).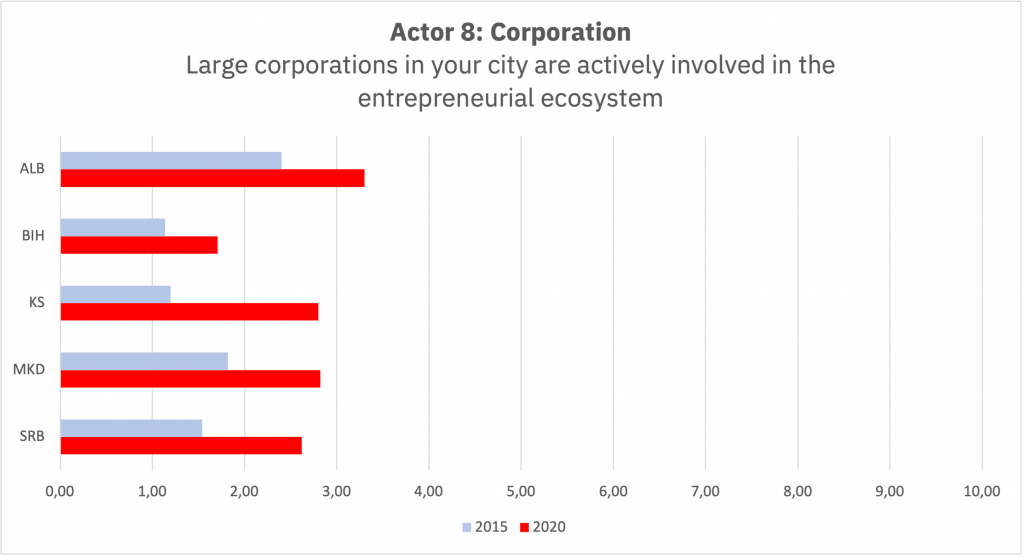 However, the respondents recognized that some larger companies (those with international ownership), such as telecoms and banks, are increasing their activities with startups and the ecosystem. International companies active in the region often benefit from ready strategies, practical tools and instruments for engaging with startups that their companies have developed and tested elsewhere. Local corporations are often less equipped to engage with startups, so there is a need to raise awareness among them about the potential benefits of working with startups and how to engage. However, the same companies are acutely aware that they must innovate to stay in business and thrive, so working with startups may be one way for them to evolve.
The role of 'pushing' for more corporate involvement in the ecosystem falls primarily on the Enterprise Support organizations (ESOs), who need to be more proactive in identifying and convincing corporations to engage with their programs and startups in the role of sponsors, mentors, motivators and/or investors. ICT Hub, a Belgrade based ESO, is pioneering the relationship between ESOs and corporates offering a portfolio of corporate innovation services, bringing startup methodologies to larger corporations, while at the same time developing a solid new income stream for the ESO.
Achieving a stage where the ecosystem is to a higher degree pulled forward by entrepreneurs and private companies and pushed less by governments and donor-funded programs (public money) would transform the ecosystem, making it more comprehensive and complete.