For the Win! Conference aims to gather all the relevant actors of the gaming ecosystem in Serbia, the region and Europe. By compiling all relevant stakeholders, actors, companies, and ecosystem builders at the same place, the Conference strives to be the focal point for the future of gaming.
The conference program will be divided between two venues in downtown Belgrade—the Yugoslav Film Archive (Kinoteka) and Bitef Theater. During the first part of the program, numerous European associations (Italian, Swedish, Franch, Romanian, and the EGDF) will share their practices of building successful frameworks for gaming ecosystem development and various cooperation models with the government, civil society, and the market economy.
The B2B part of the program will be evenly dedicated to the "core" or PC side of things (at the "Makavejev" hall of Kinoteka). At the same time, the famous Gamecamp community, which gathers over 100 studios from Southeast Europe, will present its program for mobile studios in a separate space. Lectures, panels, and moderated Q&A sessions await us, with many opportunities for networking and matchmaking.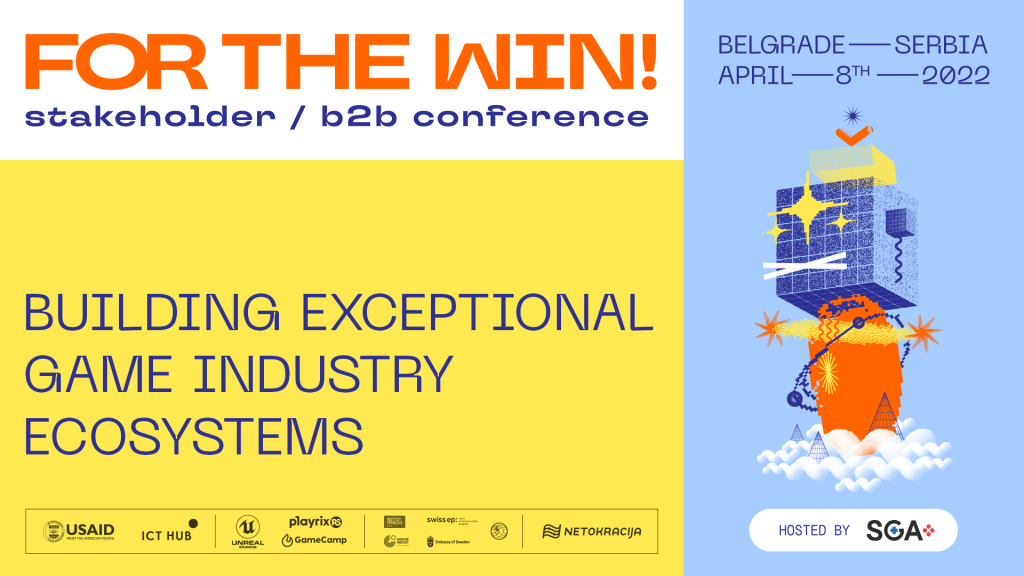 In the evening part of the program, the audience will have a chance to see the premiere of the Serbian Gaming Association Annual Industry Report for 2021, which will make the SGA one of the most agile associations when it comes to publishing annual research on the state of the domestic industry. Keynote lectures by the representatives of Epic Games, Outfit7, and Google will follow, rounding up the day with a party for conference delegates in one of Belgrade's clubs.
The detailed program of the Conference is available on this link.
Attending the event is possible only by invitation and is entirely free for participants. The main partners of the Conference are USAid, ICT Hub, Unreal Engine (Epic Games), Playrix.rs, Gamecamp, Swiss Entrepreneurship Program, the French Institute, Goethe-Institut, and the Embassies of Sweden and Finland.