Banja Luka is a city in Bosnia and Herzegovina with quite a vibrant and active IT community. The community is following world trends in technology and actively supports entrepreneurship and startup founders in their city.
But, we can not help but wonder would Banja Luka's scene be that active if it wasn't for one company that decided to step up and support the community? The company is JSGuru, and this is the story about the persons behind QLab and Q Station and their efforts to support and boost the tech and entrepreneurial community in Banja Luka.
From JSGuru to QLab
JSGuru is a software development company which is working with clients all over the world. While developing their company, the co-founders – Srdjan, Andrej, and Vladimir, also wanted to do something for their city and the emerging IT community in Banja Luka.
With the idea to help people find a place where they would work and meet their peers, they founded QLab. Back in 2017, QLab was one of the first co-working spaces in Banja Luka.
Development of QLab
As Vladimir Sukara says, remembering the first days of QLab,
"At the beginning, our space was empty. People didn't know what we wanted to do and why we opened this place."
To gain the community's trust and attract people to their space, QLab decided to become a hub. The team set out to organize different free events for the local audience. With a large number of meetups related to technology or entrepreneurship hosted, QLab soon became quite a busy place.
When they saw that people were interested in content and events offered, the team decided to meet similar organizations and collaborate with them. Soon they became partners of Hub 387, Hub 385, ICT Hub, and others. Besides working together on different projects, teams were also gaining knowledge, experience, and tricks of the trade.
In a brief period time, QLab had became the place to be. Lecturers from all over the region and the world were their guests. And, people kept on coming. In 2019 alone, QLab organized 300 free public events with different communities in Banja Luka.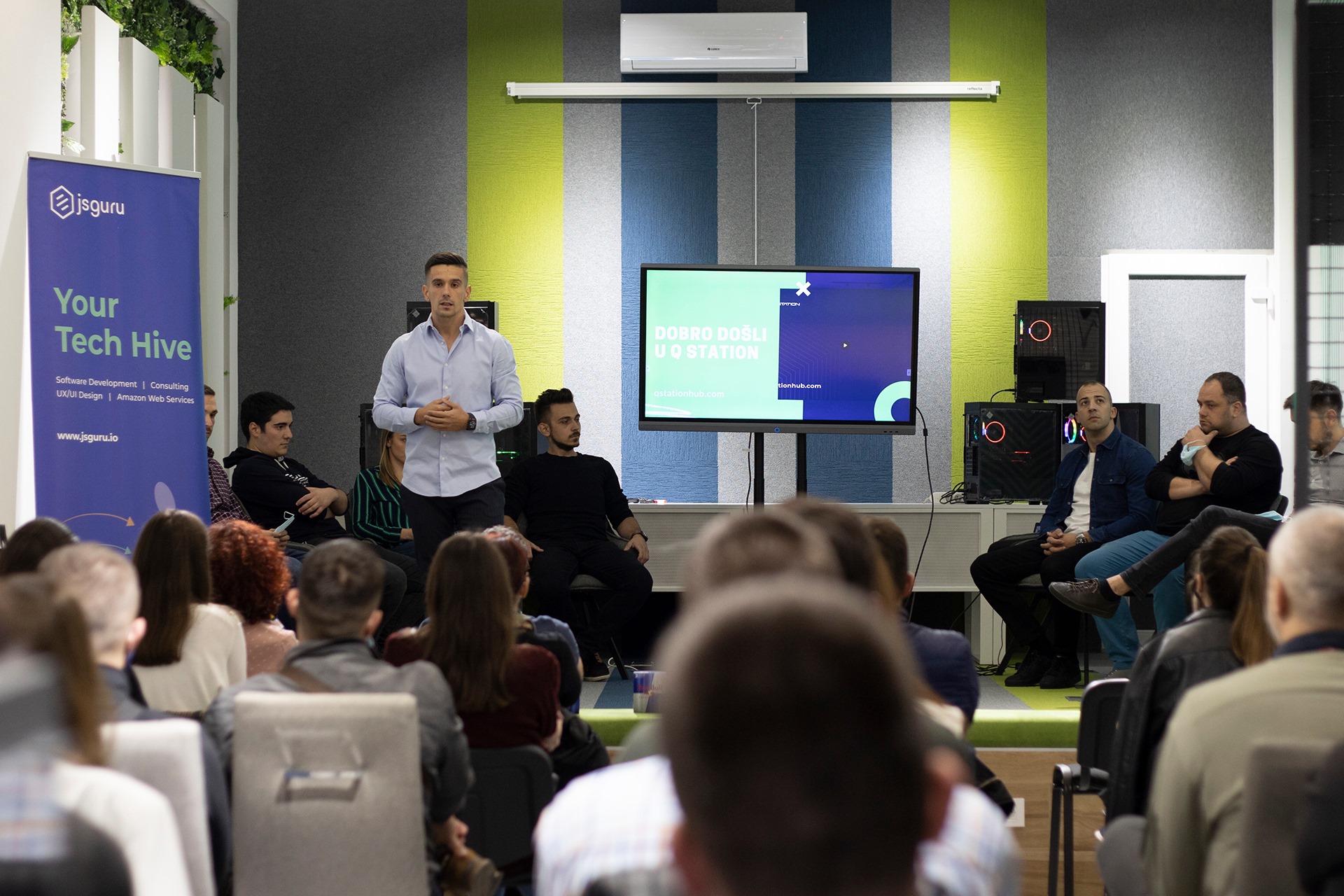 What is the secret of QLab's success?
There is no secret. We have asked Vladimir what his motive was to start such the endeavor, and he said:
"To make sure that good people surround us. We wanted to meet everyone, and to enable our fellow citizens to meet each other, to expand their knowledge and meet the most successful and interesting people in the region."
Since Vladimir always wanted to stay in Banja Luka, his goal was to create similar working conditions for fellow citizens as they would have anywhere in the world. He wanted to enable them to stay and live in Banja Luka, working with partners from all over the world.
"I would lie if I said that we, as a company, didn't have any interest out of the community activities. Our interest was to gather an excellent crew, to work on joint projects, to meet everyone, and to be able to help each other."
Where is QLab today?
QLab doesn't exist anymore. The reason is not a pandemic or anything bad. No worries, this story has a happy ending – QLab has evolved, and today it has turned into Q Station.
Since their activities moved more and more toward informal education and capacity building for entrepreneurs and the entrepreneurial ecosystem, the management team decided to start a new chapter in the organization's life. QLab is now Q Station – a leading educational center in Banja Luka and Bosnia and Herzegovina.
Today, Q Station is home of:
various local communities,
Kliker programming school for teenagers,

Maker Space, a lab where people can test and prototype their new products.

And more.
Q Station and JSGuru teamed up with Market Makers to lead the educational program for IT and technical skills, both online and offline.
What is next for Q Station?
As you can see, Q Station is here to stay. With the support of JSGuru, a company open to IT and entrepreneurial communities, Q Station is working on making Banja Luka a better place to live and work.
We are looking forward to being a part of their new adventures.