Global Entrepreneurship Week is a worldwide initiative that gathers entrepreneurs, investors, researchers, policymakers, and everyone interested in entrepreneurship. During an entire week, usually in the middle of November, the world celebrates entrepreneurship and talks about different opportunities, challenges, obstacles, and inspiring stories in the entrepreneurial journey.
In 2020, Global Entrepreneurship Week will take place next week – from November 16th till November 21st. Different activities related to entrepreneurship will start in more than 100 countries all over the world. In the Western Balkans, North Macedonia and Albania will have exciting activities during the GEW. We will present you with a few, and when you see the entire program of these events, you will undoubtedly find something that you like.
GEW in North Macedonia
The lead organizer of GEW in North Macedonia is Startup Macedonia. The team has gathered the entire local entrepreneurial scene and created an agenda with 43 different events across six days. You can check all the events here and register for the ones that you like best.
The events that are particularly interesting for us are:
Policy Lobbying for the development of the national startup ecosystem: Success Stories and Next Steps, one of the main events scheduled for November 16th, at 7 PM. We will find out the importance of a well-tailored bottom-up structure and program designed for startup ecosystem development at this panel discussion. Among many prominent speakers, we will be able to hear the H.E. Ambassador of Switzerland, Mrs. Sybille Suter Tejada, H.E. Ambassador of the United States, Mrs. Marie Kate Byrnes, Deputy Prime Minister of North Macedonia in charge for Economic Affairs, Mr. Fatmir Bytyqi, GEW North Macedonia National Coordinator, Mrs. Simona Chaminska, Startup Macedonia President, Mr. Dejan Aleksov and others.
Digital transformation with Startups powered by Oracle, the event is scheduled for November 17th, at 10 AM. The facilitator of the event is our team member and SwissEP investment Facilitator Igor Madzov. At the event, we will have an opportunity to hear more about current disruptive trends and the impact of digital innovation from Oracle experts' perspective. The company has teamed up with Startup Macedonia, and they will use the occasion to introduce their upcoming Bootcamp, scheduled for December 2nd. At the Bootcamp, Oracle plans to gather regional startups and invite them to join the "Oracle for Startups" program.
Startup Ecosystem Landscapes by Womenpreneurs Balkans, scheduled for November 17th, at 5 PM. The round table organizer is Womenpreneurs Balkan leader and our colleague Nina Nikolkj. Nina managed to gather community leaders from 11 Balkan countries, and they are all ladies. At the event, you can learn more about the opportunities available in each state, the challenges they share, chances for collaboration, and how to access these markets. You are also welcome to take an active role and ask your questions after the initial presentations.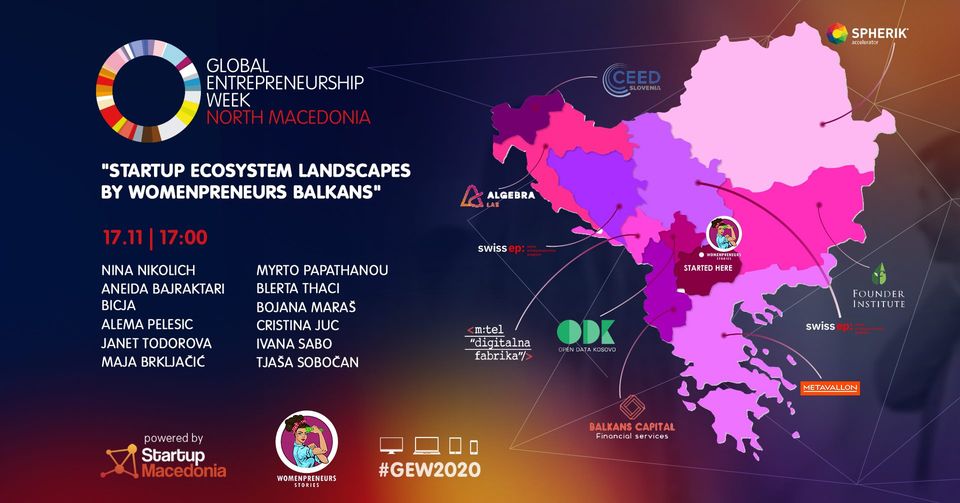 GEW in Albania
The lead organizer of GEW in Albania is Coolab, a coworking space with a mission to improve the community in all possible ways. Coolab decided to organize a series of different events covering ecosystem development, education, inclusion, and policy-related topics.
The events that we would like to point out are: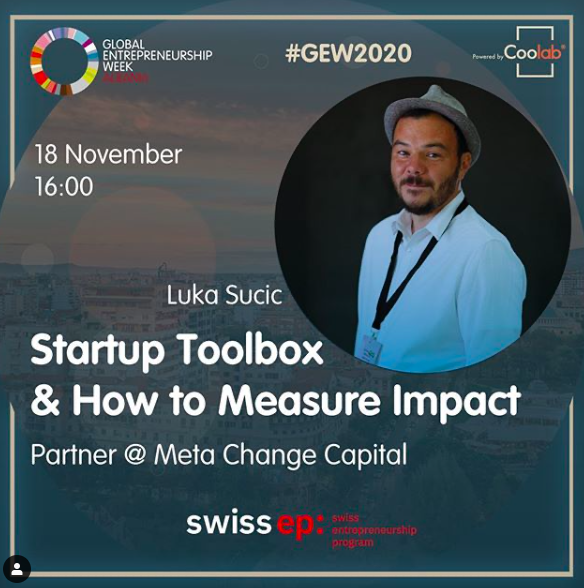 What is next?
Now that you know how many inspiring events are scheduled for next week, you are welcome to join. One of the benefits of this unfortunate situation with the global pandemic is that we can now attend any event we want because everything is online. And why wouldn't we choose the ones in our neighborhood?