Startups are changing the world; we already know that. What we might not yet know is how to recognize a world-changing startup when we see one. Here's a hint: it's highly motivated, involved in deep-tech, and its founders are a pure burst of energy. Actually, thinking about it, it's just like innSono.
innSono was born in 2018 in Niš, as a spin-off of the Laboratory of Acoustics at the Faculty of Electronic Engineering at the University of Niš. The team of co-founders Kristina Paralidis and Dejan Ćirić realized early on that they had a "game-changing" invention in their hands and decided to embark on the startup path to create a successful business.
One of the first proofs that they were on the right track was a grant they received from Innovation Fund Serbia at the very beginning of their work. The grant helped the team to get necessary equipment, hire quality engineers and set internal processes. Simultaneously, this incentive introduced them to the reporting, planning, and resource allocating responsibilities of a business.
As Kristina Paralidis, one of the co-founders of innSono said: "the grant from the Innovation Fund Serbia helped us take our startup very seriously and set it up on a proper foundation from day one."
Quickly after setting up the company, the innSono team jumped on an opportunity that opened the door to the corporate world for them. They participated in the Electrolux sustainability-focused open innovation program. This 12-months program began in late 2019 and enabled five teams from all over the world to access the internal R&D department of Electrolux to develop sustainable solutions. Alongside Silicon Valley, Tel Aviv, and Western European teams, Serbian innSono worked hard to perfect their sound analytics algorithm.
While improving the technical aspects of their business, Kristina Paralidis worked hard on business development segments. In the spring of 2019, she participated in Swiss EP's Women Entrepreneurs Week in Zurich.
Let me describe my key takeaway from that week with one sentence: people have no clue what we are talking about when telling them what we are working on. This was the first time I realized that we need to change our language and stop talking in tech terms. People don't care how optimized our code is or how superior we are over our competitors technically. They want to know what the product does and how much money it can earn. Besides this crucial lesson, I also met amazing women in Zurich. We are still in touch, helping and supporting each other.

Kristina Paralysis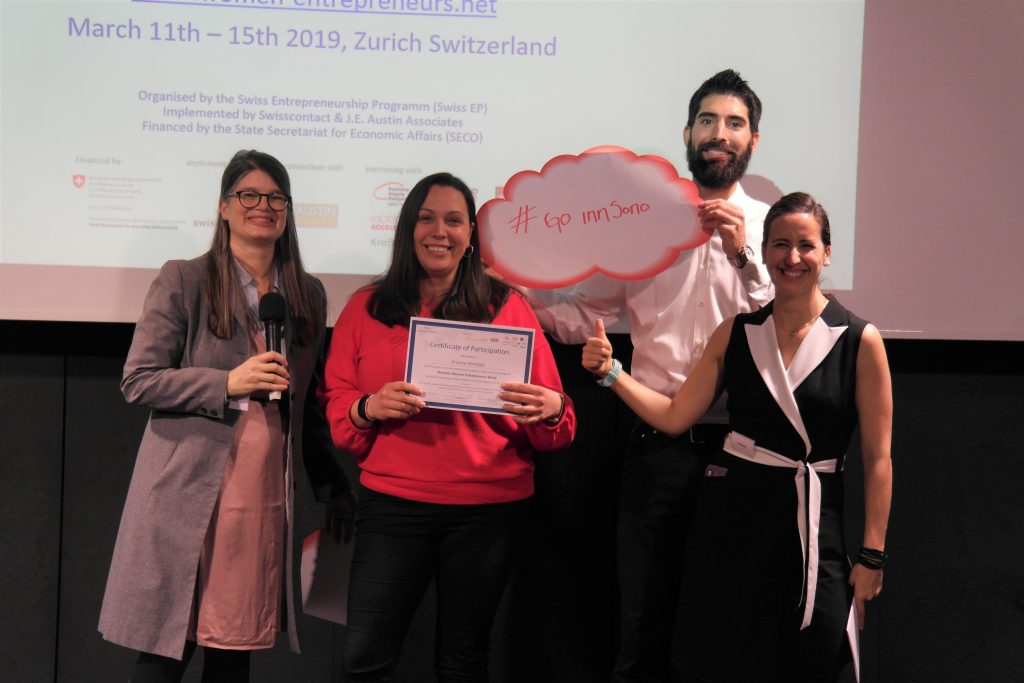 After perfecting and defining their product, innSono realized that they were offering technology for fast audio analytics. The software enables quick audio data processing that speeds up the development of different AI-based applications using sound as an input. With a tech stack in place, the team knew that the next step in their growth would be to become investment ready.
A learning opportunity arose, and they took it. InnSono applied to the Investment Readiness Program hosted by Preduzimanje and WFNA and joined seven other selected female founders from the region. In Kristina's words the program was an eye-opening experience:
I enjoyed working in an all-female space—such precious feedback and positive energy. The intensive interaction and pace of the program helped us review our materials and create our valuation very quickly. The entire program was priceless for us.

Kristina Paralidis
With a company valuation, fantastic product, and excellent support network, innSono is ready to climb another peak on its startup journey. We're sure it leads to a better world, one with incredible sound analytics software for all sound AI applications! And we can't wait to talk to Kristina about their upcoming adventures.