According to Brad Feld, "…local government play an influential role in startup communities". He continues, "…local policymakers are more likely to be more actively involved in coordinating and funding entrepreneurial activities, including underwriting incubators, facilitating connections and learning, supporting grassroots initiatives, and encouraging company founders". Nothing appears to be further from reality in the Balkans.
We asked our interviewees how accurate they found the following statement "Local government in your city offers financial and non-financial support to ecosystem actors and ensures a regulatory framework positive to startups."
No ecosystem actor received a lower score than local governments. On a scale from 0 to 10, the score was a meager 1.7 in 2015, and did not climb higher than 2.6 in 2020. There appears to be a universal agreement among the interviewees in the five countries that local governments have a very long way to go before becoming a constructive actor in the ecosystem.
North Macedonia and Kosovo recorded significantly improved perceptions of local governments of 100% and 88% respectively in five years, albeit from a dismally low level. The change was almost identical in Albania (+38%) and Bosnia & Herzegovina (+39%), while things are moving much slower in Serbia (+19%).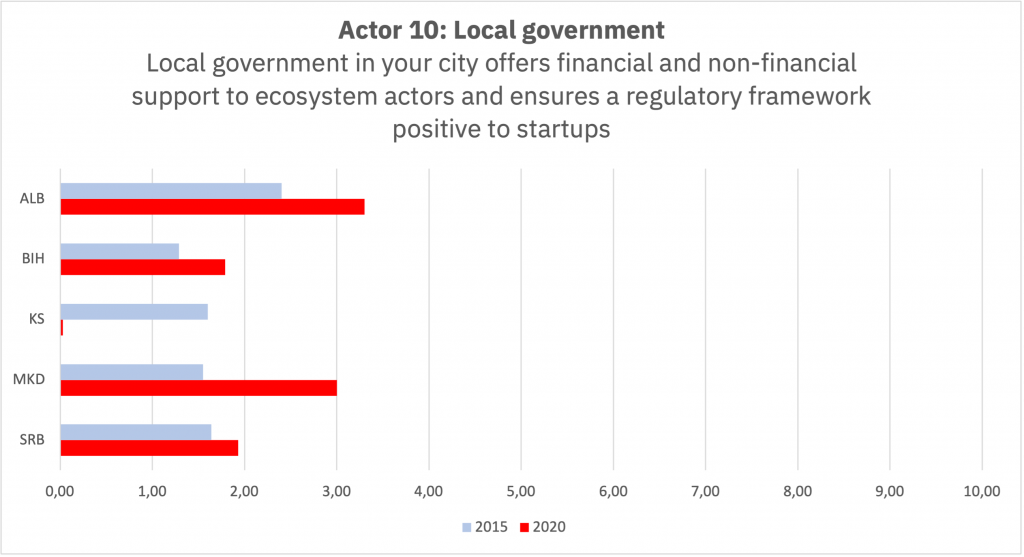 Among the interviewees, one group was categorical about local governments offering no support to startups whatsoever, while another group highlighted the occasional activity and/or grant scheme available to entrepreneurs, but not necessarily to startups specifically. The fact that local governments are so passive in the entrepreneurial ecosystems in the Balkan countries is, using the logic of Feld, a hurdle that must be overcome for healthy and viable ecosystems to emerge.
One reason why local governments are so passive could be the limited budgetary and other resources available for this type of support. Another reason could be that the responsibility for economic policy and strategy development and implementation, including entrepreneurship, are with the national government. Still, from the perspective of local politics, focusing on startup communities made up of primarily young people (read: voters) and financially supporting their activities, sounds like a smart political move. Sure, there are occasions when a mayor or municipality engages with the ecosystem, even offering financial support or investing in infrastructure. Yet, too often, these initiatives remain ad hoc, and are not yet a result of any clearly defined startup support strategy with a solid budget attached to it.