During the Global Entrepreneurship Week in North Macedonia, we had the opportunity to learn more about the "Oracle for startups" program. Exciting news – Oracle is interested in Western Balkans, and they are inviting startups from the region to join the program.
If you are a startup owner or you want to work with Oracle tools, we highly recommend you to check what is happening and to apply for the upcoming webinars.
What have we learned about Oracle on GEW North Macedonia?
In case you missed the event GEW North Macedonia event, we are sharing the video from the gathering here:
What is "Oracle for startups"?
"Oracle for startups" is a support program for startups. Oracle is putting its resources to startups' disposal. Besides technical assistance, such as Oracle Cloud Infrastructure, Oracle Autonomous Database, Oracle Analytics Cloud, Container Engine for Kubernetes, Oracle Integration Cloud, and many more, they are also offering mentorship and technical advisory.
In other words, a startup from any of the Western Balkan countries, with minimal funding, can have access to Oracle Cloud solutions. The company is not taking equity. The company offers $ 500 of credit for the initial testing and a 70% discount for all Oracle services for the next two years.
Benefits that startups could gain from this program are:
Access to enterprise services,
Secure, robust, and value-priced cloud,
Access to global customers, marketing exposure, mentorship, and more.
How can you apply?
Oracle has teamed up with Startup Macedonia to deliver "Oracle for startups" to our region. During December, they are organizing a series of online sessions with Oracle representatives where you can find out how to apply for the program and how you can use it. You will even be able to see the technical demo of the platform.
The first online session is scheduled for December 2nd. The Oracle team will explain how a startup can use Oracle's network of mentors, product experts, and customers on top of the cloud infrastructure.
On the second gathering, on December 9th, you will get to meet with Cloud-native experience. A webinar called "Start building on Oracle Cloud" will help you learn how to use the most out of Oracle infrastructure.
The last webinar will take place on December 16th, and it will address some sales issues. On this webinar, you will learn how "Oracle for Startups" can help you land some Enterprise clients.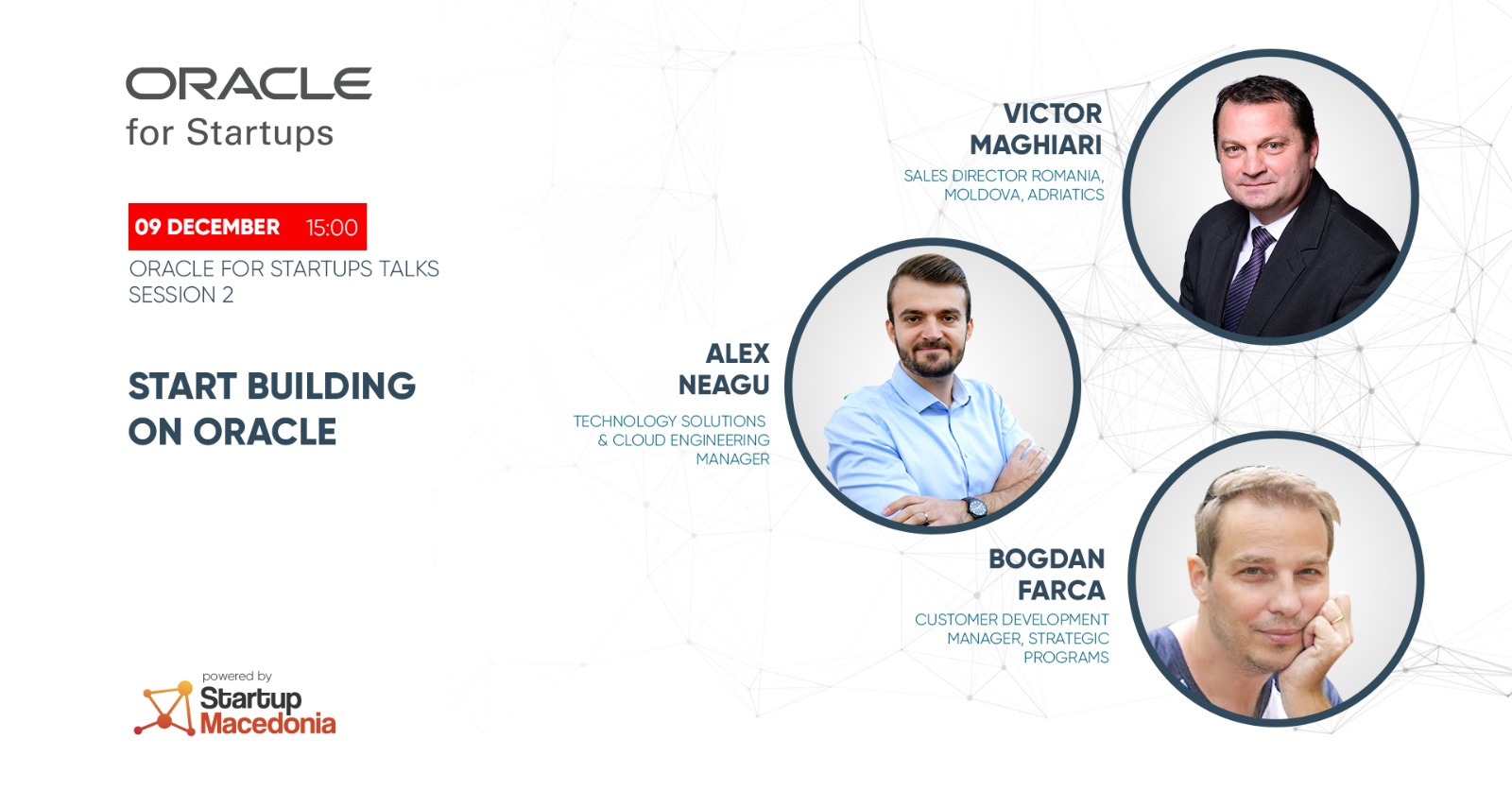 Applications for all three webinars are already open. You can register for the entire series of events on this link. If you are not interested in all topics, you can pick the ones that suit you best.
What is next?
After the December events, Oracle will continue to support startups from the region. Such support will benefit not only startups but also the entire entrepreneurial ecosystem because it will raise regional startups' technical capacities.
On top of that, our startup founders will learn some business skills and use the opportunity to work with enterprise companies on a global scale.
We are looking forward to seeing how this collaboration will affect the entire region and maybe even help us see some unicorns sooner than expected.