Nothing inspires an entrepreneur like the success of a peer. According to Brad Feld, entrepreneurial success propels startup communities—it inspires the next generation of entrepreneurs and shows that entrepreneurship is a viable career choice. When entrepreneurs recycle their resources, share their entrepreneurial journeys and inspire others, the startup community is becoming both dynamic and sustainable. We asked our interviewees "how well is entrepreneurial success being recycled into the startup community today?"
Of course, success is relative and context specific. The Western Balkans is not producing global unicorns (not yet) but that does not mean there are no success stories to share. On the contrary, any founder who has managed to build a strong team and competitive product/service and is enjoying exponential growth, has a story to tell and experiences to share that are inspirational and useful to others.
While on average, in Western Balkans, the recycling of entrepreneurial success appears to have improved by 57% from 2015 to 2020, the answers pointed to two sets of opposing points of view.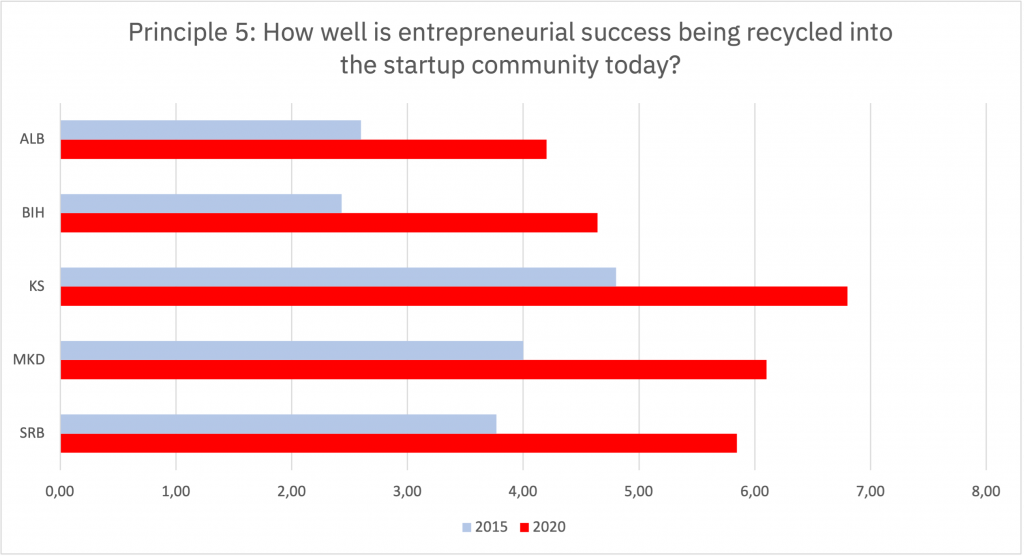 Optimism vs. pessimism
One camp pointed to a positive change in the last 5 years, with more entrepreneurial successes being recycled and more people using their resources to help others. Entrepreneurs appear to be more willing to share their experiences and know-how with others.
However, a larger group of interviewees took a pessimistic stand to the recycling of entrepreneurial success. Many highlighted the weakness of the overall entrepreneurial milieu and the fact that too few people are involved in recycling their resources due to workload. Others pointed to a general lack of startup successes to recycle, and if it happens, it's mainly about self-promotion and serving self-interest, and not based on a commitment to share knowledge and expertise by the entrepreneur.
Opportunities to recycle vs. willingness to do so
Many interviewees highlighted that the recycling of resources occurs organically in smaller communities, such as founder networks and within groups active within specific verticals. There appears to be a limited number of platforms available for entrepreneurs to recycle their success and help others. Many interviewees highlighted the lack of conferences and other significant events, while others pointed to the mainstream media not giving enough room for startup stories.
Another group of interviewees pointed to a growing willingness among entrepreneurs to recycle resources, but at the same time they recognize that they don't have the capacity for something like that. They could use storytelling for sharing their success, but that is a relatively new skill that is yet to be learned.
Chicken vs. Egg
The good old Chicken vs. Egg paradox is again obvious when it comes to recycling startup success stories in the Balkans. Put aside the sometimes overzealous self-criticism about the limited supply of quality startup successes, there appears to be an appreciation for the importance of recycling successes among entrepreneurs and their willingness to share is growing.
However, this is not happening organically, and there is a clear call from the community for facilitation and structure. Again, there is a need for somebody else to kick-start the peer learning process, establish new platforms for recycling successes and push the story-sharing process forward.
How to recycle success?
Recycling of resources, knowhow and motivation of entrepreneurs can occur in multiple ways and platforms:
The entrepreneur may volunteer as an inspirational guest speaker at startup events,
S/he may volunteer as a mentor in a startup program,
By becoming a business angel, the entrepreneur can recycle both financial and other resources (smart money),
The entrepreneur may share his/her story with the national media and a wider audience,
By hosting a national annual startup conference that puts the limelight on the startup community as a whole.
These are just some of the suggestions that the local entrepreneurs can use as an opportunity to shine by recycling their success stories. Hopefully they will embrace some of them.