The first question of the survey was: How well is the startup community in your city helping entrepreneurs today?. From the answers, we can conclude that there exists some confusion about what a startup community is. The replies were all over the place. Some claimed that there is no startup community in their city, while others highlighted that the number of organizations offering startup support programs has increased in five years.
According to Feld:
The startup community is a group of people that through their interactions, attitudes, interests, goals, a sense of purpose, shared identity, fellowship, collective accountability and stewardship of place – are fundamentally committed to helping entrepreneurs succeed.

Bred Feld, The Startup Community Way
The keyword here is people, referring mainly to entrepreneurs, who come together voluntarily in a community.
As we can see, the Community is not the same as institutions such as government, banks and universities, or even startup support organizations, such as incubators (unless entrepreneurs run them). Institutions make up the entrepreneurial ecosystem, which is a generalized structure that wraps around and depends on the startup community to give it life. In other words, you may have a fine institutional landscape, but if entrepreneurs don't drive the day-by-day change process, nothing will fundamentally improve. Don't forget — entrepreneurs are the ones who create the jobs, generate revenue and wealth, not the supportive institutions.
In the Western Balkans context, the existence of a startup community depends on whether or not local entrepreneurs and startup enthusiasts are stepping up and starting to give back. These people are leveraging their internal resources – technical, financial, time – for the benefit of other entrepreneurs. On this crucial topic, we are clearly still in the infancy stage of development.
The obstacles standing in the way of the more rapid development of startup communities are:
Passive startup founders – due to heavy workloads, founders often don't feel they have time and energy for community-building.
The wrong perception of the peers – some perceive the community (local entrepreneurs) to lack experience, questioning what they can learn from them.
Addiction to grants – some still expect everything to be served to them, most often by donor-funded programs, with limited or no inputs from their side.
The Balkans' cultural context – the give back first mentality feels foreign in a culture where people are usually cautious about opening up to others.
Despite all the challenges, successful local entrepreneurs must lead the way by becoming entrepreneurial role models, mentors, and angel investors. That said, we see signs of hope. Communication among startup founders is intensifying, informal networks of like minded people are being formed and business collaboration among peers is increasing.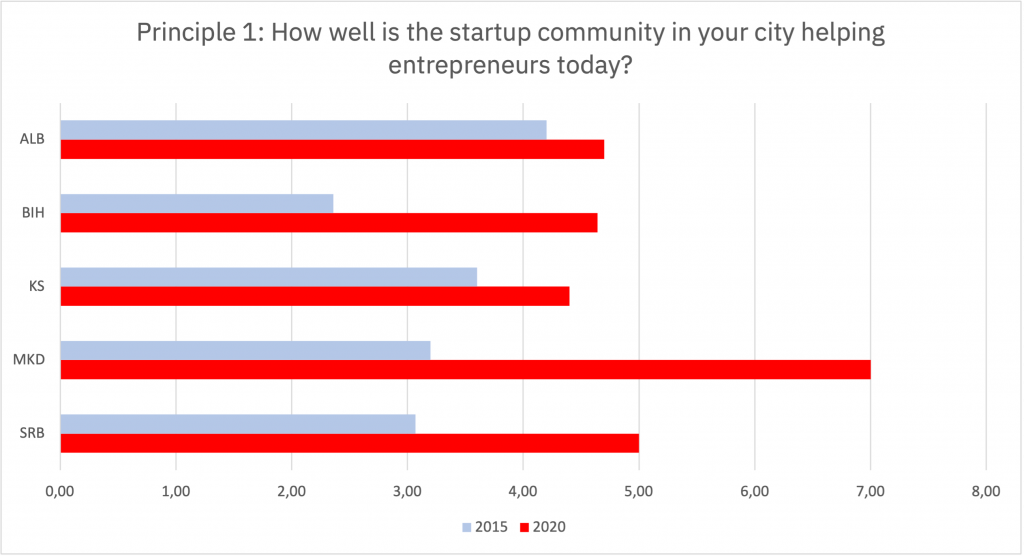 There is no short-cut to entrepreneurial success. Every entrepreneur knows that. Institutions in the entrepreneurial ecosystem can do everything to create a conducive framework for entrepreneurship and incentivize entrepreneurial learning. Still, at the end of the day, the competitiveness and growth of the private sector depends on the performance of individual entrepreneurs.
Nobody can motivate and help an entrepreneur better than other entrepreneurs. That's why startup communities are important and a key to positive change, not only in the economy, but in the minds of people (culture) and society as a whole. Or, as Feld puts it:
Without entrepreneurs, there is no startup community. If the entrepreneurs are not succeeding, the next generation will leave, and entrepreneurship will stall.

Bred Feld, The Startup Community Way
In Western Balkan countries that have suffered from 30 years of brain-drain, this rings very true.