The Serbian startup ecosystem has been rapidly developing in the last few years. In 2021 alone, the ecosystem reached a record volume of investments and acquisitions. But, to get investable startups and companies suitable for acquisition, the system also has to work with early-stage startups and help them grow.
A network of science technology parks is doing just that—helps early-stage startups overcome challenges and grow. They have joined their efforts in implementing the Raising Starts program. This pre-seed program provides both professional and financial support to startup teams and companies in the earliest stages of development to accelerate the growth of an innovative idea.
Raising Starts program is being implemented by Science Technology Park Belgrade, with the support of the Swiss Government and in partnership with Science Technology Park Niš and Science Technology Park Čačak. Program Raising Starts is created through the project "Technopark Serbia 2 –Boosting exports through technoparks" under the Memorandum of Cooperation between the Government of the Republic of Serbia (on behalf of the RS Government: Ministry of Education, Science, and Technological Development) and the Swiss Government (on behalf of the Swiss Government: State Secretariat for Economic Affairs, SECO).
The first public call for the Raising Starts program was open at the end of 2020. The interest in the program was quite considerable among the startup community. Out of 183 registered teams, 13 received extensive professional and financial support.
Applications for the new call are open until December 28th, 2021. Startups eligible to apply are:
based in Serbia,
teams of at least two members, and
Innovative companies founded no longer than two years before the date of publication of the Public Call.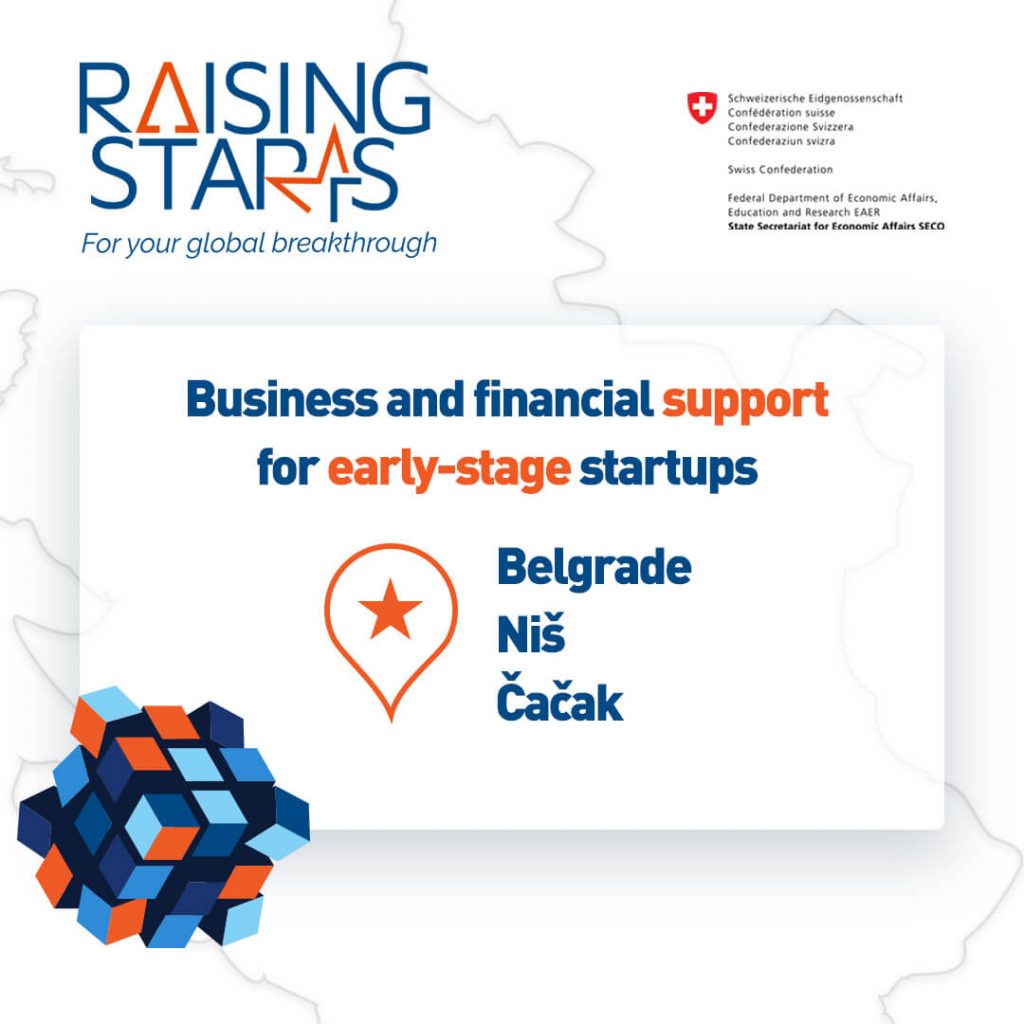 Participating startups will gain intensive business development training and mentoring. On top of that, teams can get up to CHF 15,000 (no equity) to cover the costs of prototyping, business model development, market research, first customer testing, intellectual property protection, and other expenses related to developing new products or services.
Raising Starts is an excellent opportunity for early-stage Serbian startups to learn, experiment, and get their first funding (equity-free). On top of that, this is a great way to boost the ecosystem and provide it with fresh and exciting startups and companies ready to take the next step.