VentureUP is the Entrepreneurship Center and official incubator of the University of Prishtina "Hasan Prishtina" in Kosovo, which serves as a bridge between education and the labor market for over 50,000 students.
The Why. Your vision and goals. Please highlight what you want to achieve:
VentureUP adds value to students of the University of Prishtina with high potential to develop a business idea. Our organization saw a gap between academia and the private sector. We decided to fill that gap with meaningful programs that will help students develop business related skills.
The What. Your customer value proposition. Please highlight your portfolio of services:
VentureUP service portfolio includes training, mentorship program, and coaching.
We are receiving full support from Swiss EP, especially with the organization of startup training programs. An excellent example of this support is the connection with Spring Activator, a well-known ecosystem builder based in Canada. Swiss EP team put us in touch with Spring, who helped us organize an excellent program. We delivered a high-quality training program for our startups, with international trainers included and a wide network of local and international mentors.
The Who. Your target group(s). Please highlight who do you support:
VentureUP supports current and former student entrepreneurs of Prishtina University. We are the door to go-to for all students who want to discuss and scrutinize their business ideas, develop them further, and start a business. Also, students are coming to us when they want to seek external finances and investments.
Speaking of investments and programs, we need to mention that, VentureUP supported two cohorts of startups. The first in 2019, with eight startups completing the incubation and three receiving seed financing. And the second in 2020 when 16 startups started the incubation process and four obtained seed financing.
Startups who were part of our program come from different industries, such as tourism, healthcare, textile, VR, IT, carpooling, legal, education, food, and renewable energy.

The Team. Please introduce members of your team (what are their unique skills/focus):
VetureUP team members are:
Our Committee Members who are helping us select the best startups who will join our programs and win pitching competitions are:
The Success. Please describe your most significant success(es), something you are most proud of:
Our most significant success, so far, is working in a challenging time, such was the COVID-19 pandemic last spring. We were able to run the incubation program for 16 startups with 48 hours of online training and 50 hours of mentoring. Organizing an online program and working online full time was new to our staff, but we succeeded.
The Demo Day of our incubation program was on July 22nd. 12 (out of 16) startup teams presented their ideas. The Committee Members were highly professional and spent over 9 hours in evaluating the pitch participants. Finally, we awarded four teams. The first prize was EUR 7000, the second EUR 4,500, and both third and fourth teams won EUR 3,000.
On top of that, we need to mention that we are immensely proud that our first prize winner is a team gathered around a young woman entrepreneur. The 3rd and 4th prize went to teams made of freshmen students. Such results make us very proud because we know how important it is to support young people and female entrepreneurs in such business endeavors.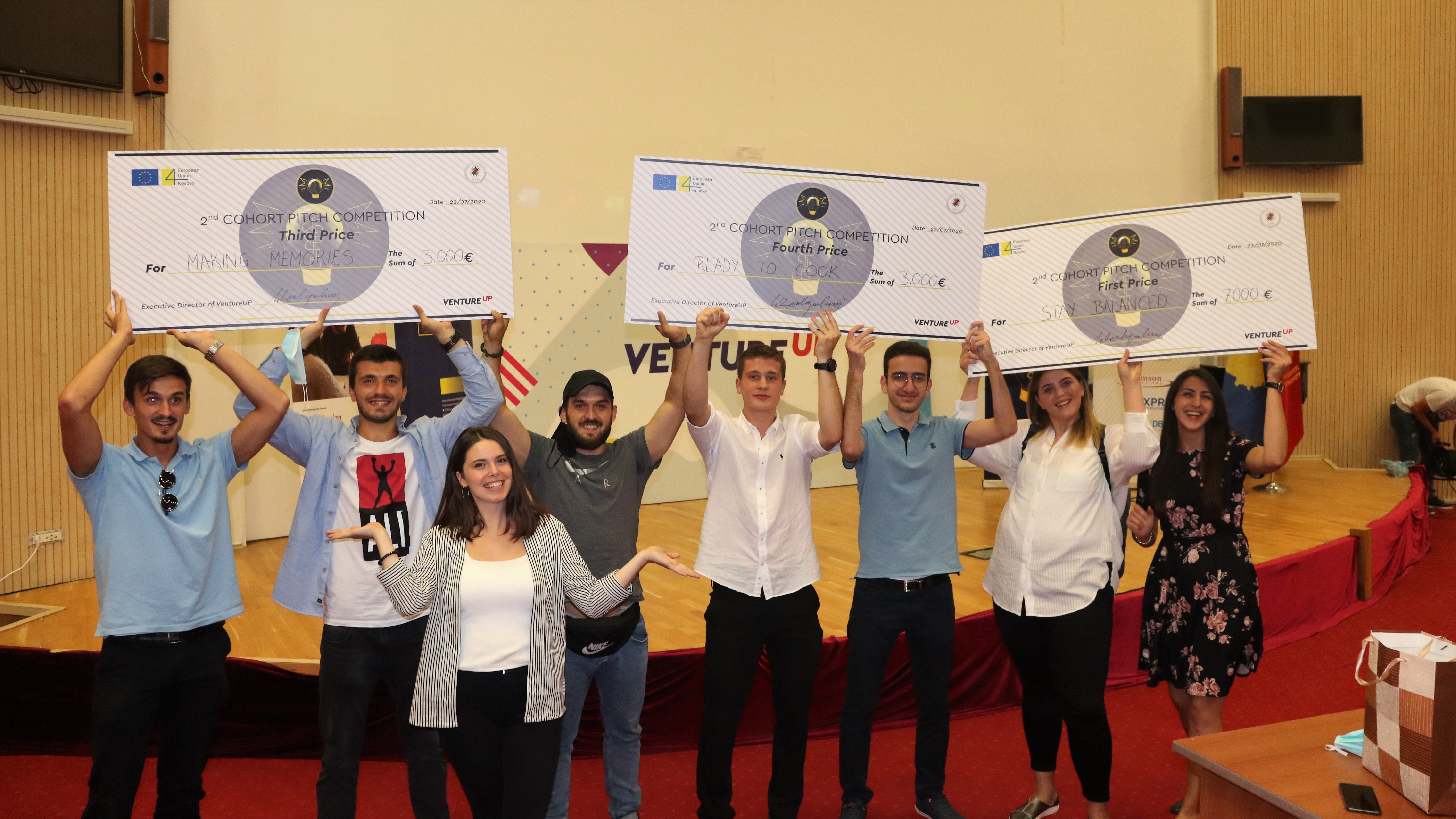 The Information. Please share your website and social media links where people can follow and contact you directly:
Website: https://venture-up.org
Facebook page: https://www.facebook.com/ventureup.ks
LinkedIn page: https://www.linkedin.com/company/ventureupks