The Western Balkans Investment Readiness Program has three compatible goals:
To raise the level of investment readiness among participating startups
To help local startups get their documentation ready for the investment process,
To introduce startups to local, regional and international investors
The program is designed as a mixture of different learning methodologies: academy with peer-to-peer learning, mentoring, masterclasses, and hands-on work. It is tailor-made to equip startups with the necessary knowledge, skills, and documents to negotiate their next investment round.
What is the curriculum of the program?
The program will be divided into a few critical phases. Each phase will be eliminatory, but it will bring value to everyone involved.
Phases and the timeline of the program:
December 8th – 27th, 2021 – Application period
January 15th, 2022 – Selection of 50 candidates who will start the program
January 20th – 21st, 2022 – Learning Bootcamp for 50 selected startups
February 9th, 2022 – Announcement of top 20 startups who will continue the program
February 17th – April 7th, 2022 – Six-week investment mentoring & masterclasses
April 29th – 30th, 2022 – Live meetup with investors
All experts and mentors who will work with startups during the program are excellent practitioners with proven track records and different skill sets. The Investment Readiness Bootcamp will be organized by efino, a company with extensive experience delivering similar content.
The second part of the program will be focused more on specific aspects of startup development. Each Masterclass will address a different topic, such as: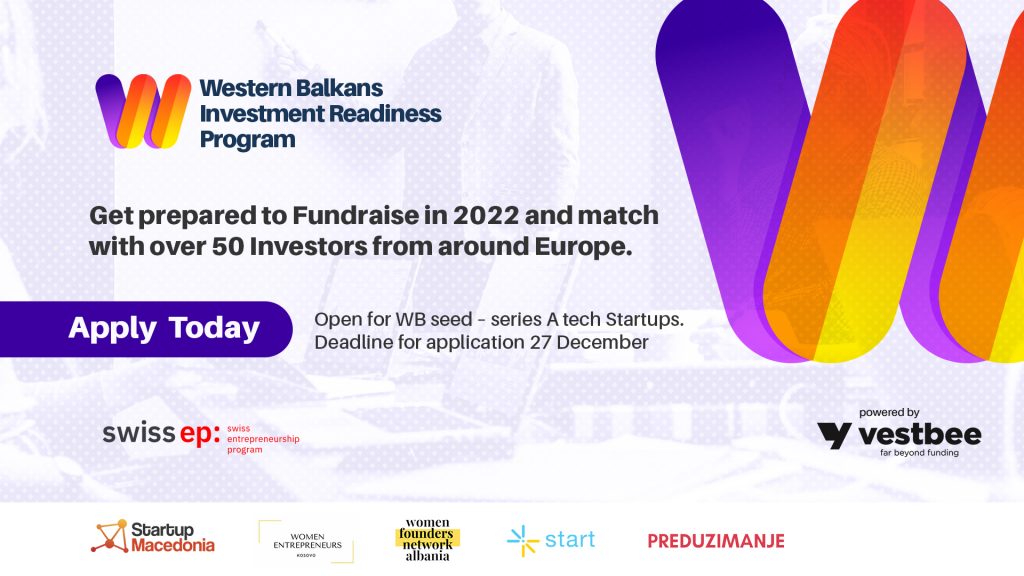 Who can apply?
Startups with growth ambitions are the best candidates for the program.
Or, to be more detailed, here are some specific criteria:
Founding teams are based in Albania, Bosnia & Herzegovina, Kosovo, North Macedonia or Serbia,
The team is developing a tech product (software or hardware) with a focus on business clients,
Product is launched on the market or tested with clients,
The team is searching for investment equity between 100,000 and 1 million euros,
A startup is ready to commit one person to participate in the program for 8 hours per week for 6 weeks.
When and where can you apply?
The program application has already started. Applications will be open until December 27th, 2021. You can submit your application by clicking this link.
Good luck and happy learning!